Yon Bassal
THE KNOWLEDGE SEEKER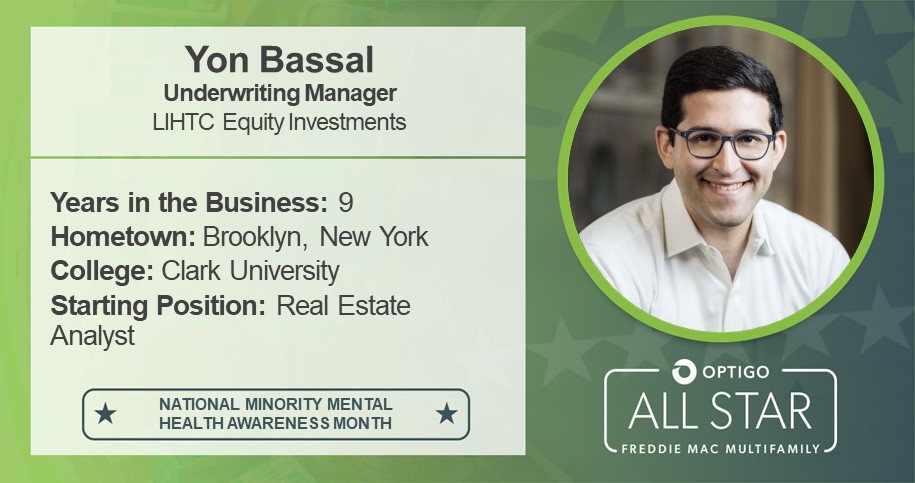 Born and raised in Brooklyn, New York, Yon Bassal grew up in a city characterized by amazing architecture and finance-oriented businesses, which heavily influenced his decision to pursue a career in real estate. Yon went to Clark University in Worcester, Massachusetts where he double majored in Psychology and Economics — the first being a passion of his and the latter allowing him to establish the knowledge and quantitative skills to support his goal of working in real estate.
Since the university didn't offer a real estate major, Yon sought out an opportunity that would give him industry experience while going to school. He landed a part-time position with Hampton Properties, a student housing owner/operator in Worcester.
As he neared graduation, one of his professors referred him to an opportunity in New York City with Townhouse Partners, a consulting firm specializing in CMBS underwriting and due diligence. Out of the four people onboarded that summer, Yon was the only intern, which motivated him to work hard to prove himself. It paid off – he was offered a full-time position as a real estate analyst.
In 2017, Yon joined Freddie Mac Multifamily as an associate on the Conventional Northeast Production & Sales team. After about four years in various areas of production, Yon circled back to underwriting – this time challenging himself with a position on the Low-Income Housing Tax Credit (LIHTC) Equity team. This area is rewarding to him because it supports Freddie Mac's mission directly: LIHTC equity investments, specifically new construction projects, create new and affordable housing for those who need it most.
Let's dive into Yon's thoughts on Freddie Mac and how he has advocated for inclusion here.
How do you promote diversity/inclusion on your team or in your life?
A: Inclusion is an important practice to me. I'm an introvert and not the most outspoken in a group setting, so over the years I've worked hard on my communication skills and confidence in speaking up. Since I know what it's like to be hesitant to voice your opinion, I'm conscious of looking around the room to ensure everyone has an opportunity to share their thoughts. If I don't get a chance to hear someone's thoughts during the meeting, I'll connect with them afterward. Everyone's opinion is valid – and in my experience, the most insightful ones are often said quietly.
What do you like most about working at Freddie Mac?
A: The main thing that comes to mind for me is the learning opportunities. Many teams within Freddie Mac have a variety of skillsets and responsibilities that are not seen on the surface. I've had the opportunity to get exposure to some of these areas and learn not only how loans are quoted and underwritten, but what systems support them, hedging, finance, securitization and more. Nikki Harvey, LIHTC Equity Investments director and my current supervisor, has been an exceptional mentor, showing me the ropes of underwriting LIHTC equity deals. We have supportive leadership that notices when an employee is pushing to expand their knowledge beyond their usual job responsibilities.
I'd be remiss to not thank Jonathan Yu, my manager when I was in Production Operations. He passed away unexpectedly this year, but he left an indelible mark on me. He was the kindest, most well-intentioned person I've had the privilege of working with. Because of leaders like him, I have a fairly holistic knowledge of Multifamily and have grown immensely, both personally and professionally.
And it's not just the leaders — all our employees are amazing. I'm impressed by not just their knowledge but by the kindness people show to one another. Freddie Mac's welcoming environment really differentiates it from other companies. We focus on productivity and our mission, but also our wellbeing and work-life balance.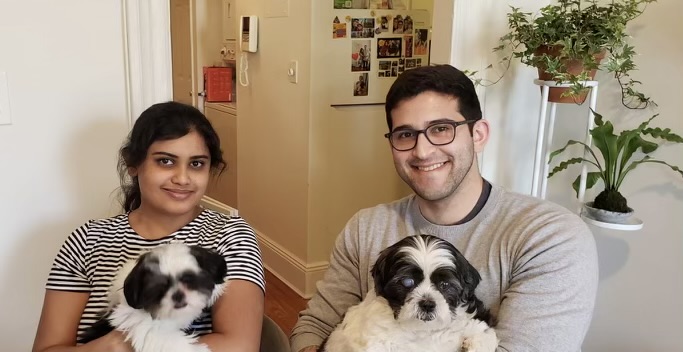 Yon Bassal with his partner, Selena, and their two dogs Bilbo (left) and Moo (right).
July is National Minority Mental Health Awareness Month. Can you share your thoughts on this topic?
A: When I was young, there was stigma around going to therapy. I'm glad that we're shifting to a place where getting help is no longer looked down upon as much. I believe anyone can benefit from therapy. You don't have to wait until there's a crisis to go talk to someone. It can be the first or second option rather than the last.
I've attended therapy over the years, both in person and virtually. There's a lot of value in talking openly with someone, becoming conscious of thoughts and feelings that were previously subconscious, and much more. Building mindfulness and understanding your emotions helps you navigate the world and your ability to grow as a person. It can shape your environment because it has a ripple effect on everyone around you. When you're intentionally putting effort toward caring for your mental health, it shows.