June 2, 2022
New Guide Topic Resource Published

Today, we published a new Guide Topic Resource. This resource compiles frequently searched Freddie Mac Multifamily Seller/Servicer Guide (Guide) topics and their corresponding key related Guide sections, loan documents and web resources to make it easier for Optigo® lenders to find what they're looking for.
We've also implemented this enhancement within AllRegs®. You'll notice that each topic will come up as a top-searched term so you don't need to scroll through the other results.

You can also browse each topic by clicking on the Guide Topic Resource from the table of contents.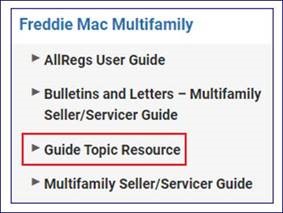 If there are topics you'd like us to add, please reach out to the Multifamily Guide Team. We want to make this a useful resource to help you get business done.
The Guide Topic Resource can be found on the Guide & Forms webpage along with all Guide forms, checklists and other helpful documents.