Kalie Angle
FINDING A WAY BACK HOME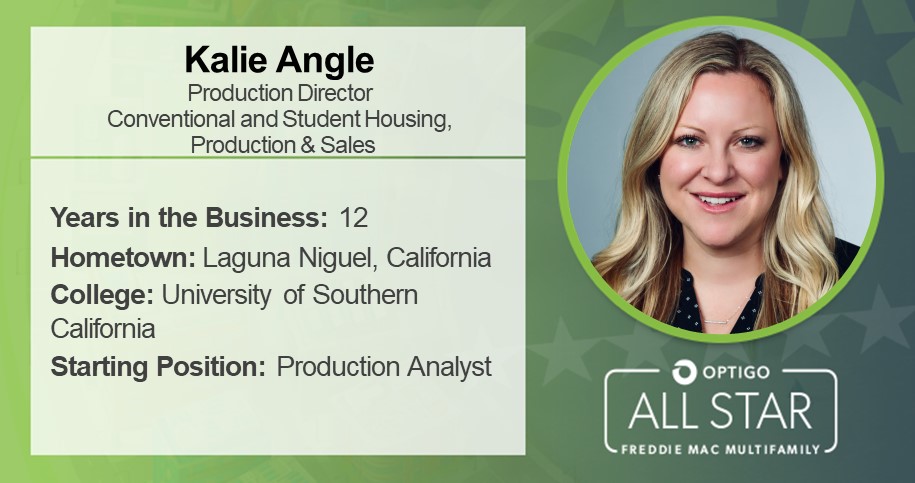 Kalie Angle hails from Laguna Niguel, a small town in Orange County, California. Growing up so close to the Pacific Ocean, she naturally fell in love with swimming, going on to compete for her local team all the way through high school. As the oldest sibling among two younger brothers, she adopted a leadership role from a young age, an attribute she would later apply in the workplace.
Kalie moved to Los Angeles to attend the University of Southern California. While her first instinct was to pursue a degree in mathematics, she quickly changed paths after one of her best friends encouraged her to take a class in real estate. It didn't take long for her interest to spark, as Kalie felt that the intricate moving parts of the subject matter merged perfectly with her passion.
After graduating with a degree in Real Estate Development, she was ready to venture out of California in search of a new career opportunity. Kalie came across an opening for a production analyst position at Freddie Mac, successfully landed the role after several rounds of interviews and moved to Chicago for the job.

Learning the ins and outs of production and working her way up the ranks over six years, Kalie realized that while she loved her work, she missed the comfort of home. Fortunately, she had the opportunity to return to California and continue working for Freddie Mac Multifamily at our Irvine office.
In her current role as Production Director, Kalie prioritizes relationships with lenders and borrowers, establishing trust through every step of the process and ensuring deals make it past the finish line. In addition to managing producers and analysts in the western region, as well as overseeing student housing at a national level, she actively participates as a mentor to new hires at every opportunity. Now, with 12 years of experience in the industry and all with Freddie Mac, Kalie continues to excel in her position and aspires to be a role model to many.

Let's hear from Kalie about what she does to thrive at Freddie Mac.
Freddie Mac's mission is to 'Make Home Possible'. What does that mean to you?
A: For me, it's about the importance of giving back and doing everything we can to increase access to affordable housing throughout the country. Many families lack the resources to overcome the challenges of finding safe and quality homes. That's why the work we do is so impactful — we help overcome challenges and create opportunities for those who need it most.
What are some hobbies/activities you enjoy doing outside of work?
A: I'm a huge baseball fan, so I try to attend as many Angels games as I can here in Orange County. It was amazing to be in Chicago in 2016 when the Cubs won the World Series. I have a 2-year-old Bernedoodle who I love to spend time with and named her Cubby as a tribute to my Chicago days. During the pandemic, I also had some time to work on my golf game. Although there is room for improvement, I love to get out on the course with my family, friends and colleagues.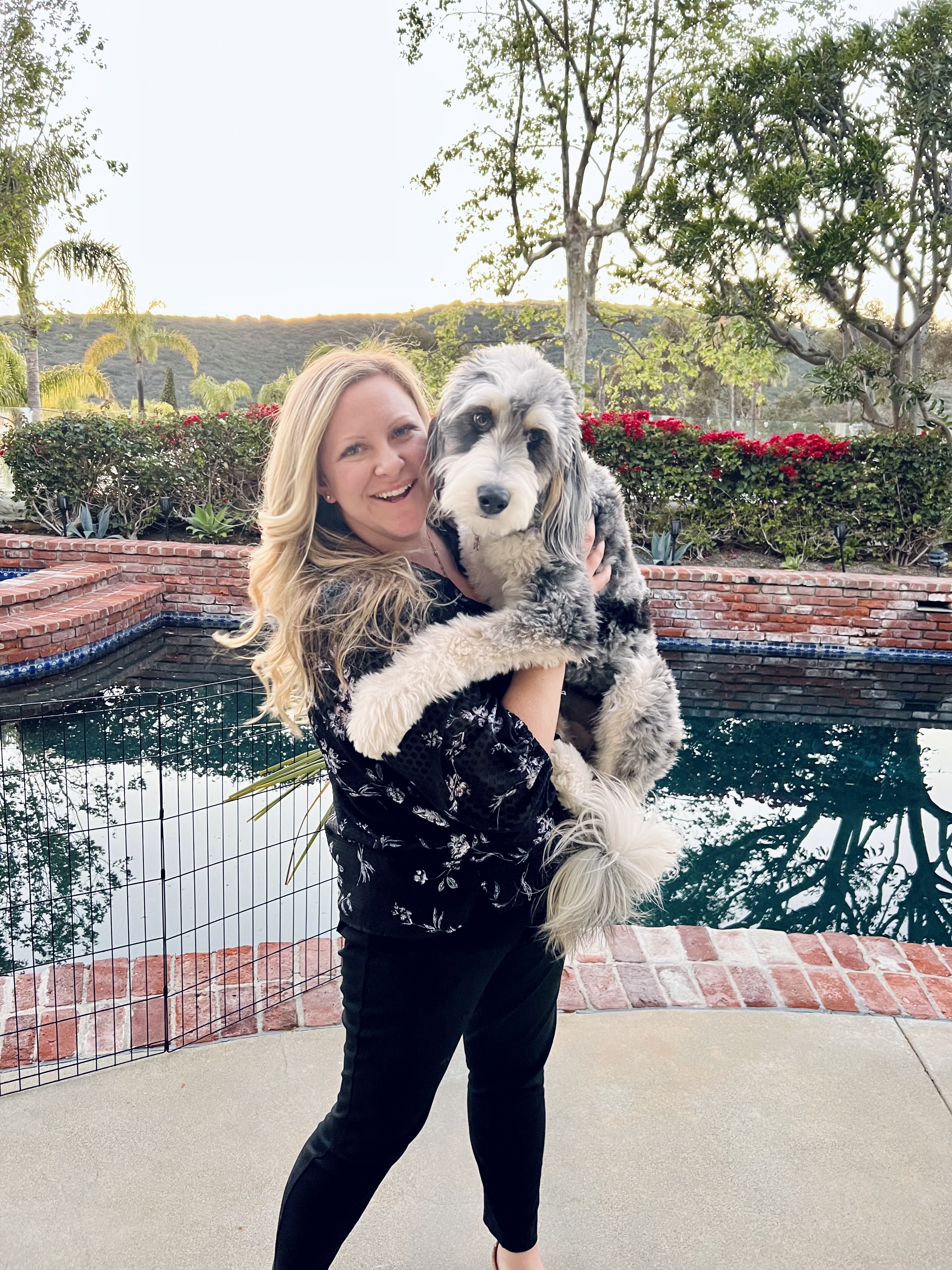 Kalie with her 2-year-old Bernedoodle
What advice would you give to your younger self?
A: Take advantage of any opportunities that come your way. Whether it's networking, traveling, additional projects, etc., do what you can to further yourself and your career. Use all that hunger and energy while you're young because it will fade over time. Also, it's important to not be too hard on yourself. Part of perfecting the process is knowing that you're going to make mistakes. Learn from them, and don't be afraid to fail. Through failure comes opportunities to grow and succeed.
Ten years from now, what would you like to say you have accomplished here?
A: My favorite part of being at Freddie Mac has been all the fantastic mentoring I received, so I love when I get to pass that along and mentor others. It is a pleasure to work with so many extraordinary people. Having an impact, big or small, on someone else's career and helping them succeed is very rewarding. It's great to see all the young people enter our system because there is so much exposure and opportunity for networking. I really can't imagine a better place to learn about this industry. If I can positively influence someone's career, that to me is the greatest accomplishment, which I very much hope to still be doing ten years from now.