Biyun Jin
GOING THE EXTRA MILE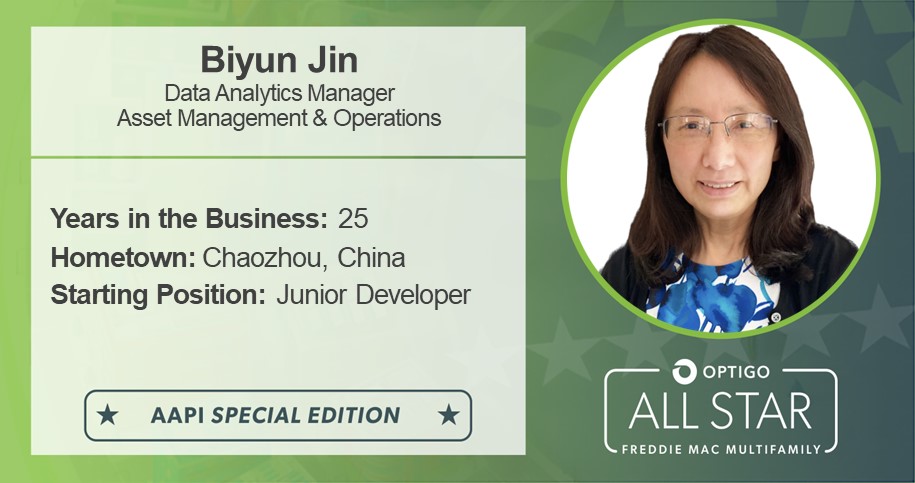 Biyun Jin was born and raised in Chaozhou, a city in the eastern Guangdong province of China. While much of her family still lives in China, Biyun came to the United States 36 years ago to attend graduate school at the University of Maryland, College Park — and has lived in Maryland ever since.
Biyun currently lives in Potomac, Maryland with her husband and has two grown children. One of her hobbies is running, and she often volunteers in events such as the D.C. Cherry Blossom 10 Miler and Pike's Peek 10K. Biyun has completed several marathons including the New York City and Boston Marathon. In the last year, she ran 1,519 miles, averaging 29 miles a week.
Biyun joined Freddie Mac in 1997, initially starting as a Junior Developer — and without much training in Information Technology (IT). Her graduate degree was in Organic Chemistry and prior to Freddie Mac, she worked at the George Washington University Medical Center researching cancer treatments and medicine. Though not necessarily related to IT, Biyun's past experiences showed her ability to think logically and perform at a high level, leading to her hire at Freddie Mac.
With guidance from a close mentor, Biyun learned on the job, studying IT development to support Multifamily Production applications. She worked in the IT space for the next 15 years helping with disaster recovery efforts and technology system migrations. In 2013, Biyun joined the Multifamily Operations team, where she still works today. In her role, she focuses on Multifamily data governance and data quality management. From working at Freddie Mac for the last 25 years, Biyun has seen the business go through many changes and has played an important part in data automation, process enhancements and digital transformation.
Below, Biyun shares what makes working at Freddie Mac so special and how her upbringing has shaped her career path in connection to Asian American Pacific Islander (AAPI) Month.
How do you promote diversity/inclusion on your team or in your life?
A: In my 25 years with the company, I've worked with people from an array of backgrounds. It is important to promote diversity and inclusion because differences among people are great opportunities to learn more about each other to create a stronger team and community. I also believe that understanding people's different abilities is valuable. These abilities can include how someone processes information, their communication style and the way they learn. By recognizing this, teams can work more efficiently and effectively because colleagues can support each other through these differences — one might possess skills where another may be lacking and vice versa. Above all, it is always important to create a space where people can share their input and perspectives, and where differences are utilized as strengths.
What do you like most about working at Freddie Mac?
A: My answer is always the people, and this is a huge testament as to why I've stayed at the company for so long. I have seen the business face ups and downs and had people on my teams come and go. However, the constant is that everyone I've worked with is always knowledgeable, hardworking and supportive. Beyond these qualities, I'd describe Freddie Mac employees as energetic, creative and caring. After running in the Boston Marathon this past April, I'm still receiving warm remarks and congratulations from people I pass around the office.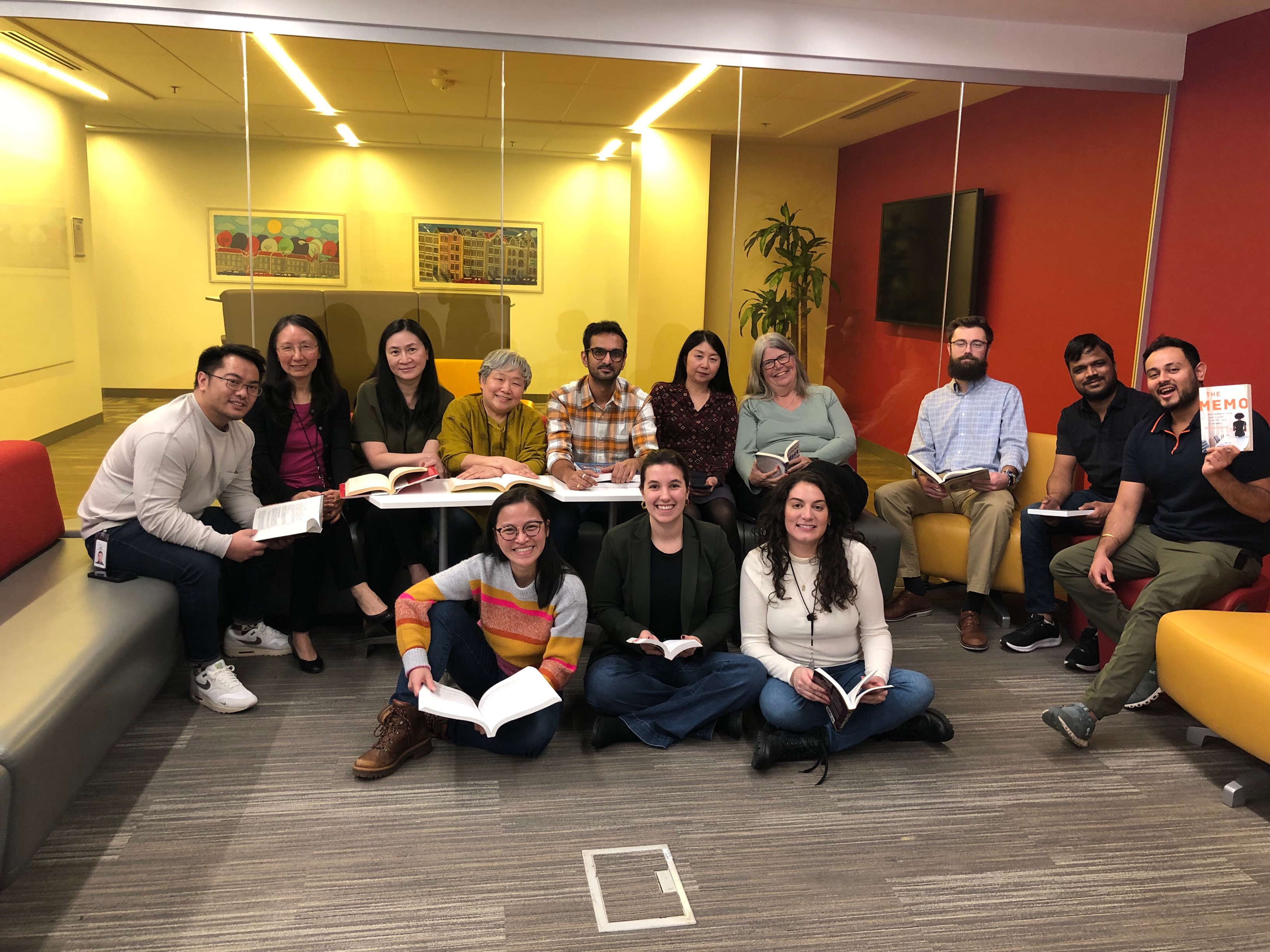 Biyun and her Freddie Mac Multifamily Data Governance Management team.
May is AAPI Month. Is there an Asian American figure, historical or personal, whom you admire?
A: I admire my mother. She lives in Guangdong with my brother's family, and I've admired her my entire life because she is very caring, hardworking and talented. She always sacrifices herself for the family and those around her and has been a great inspiration. I try to follow in my mother's footsteps and mirror some of her qualities with my own family and at work. In 2019 I had planned to visit my mother but couldn't because of COVID-19 so I haven't seen her since 2018. However, I am excited to say that I will be visiting her this month after five years apart.
Can you share a cultural tradition you practice?
A: A tradition I grew up with and still practice is cooking and eating lots of rice. Rice is a staple food in my household and many people in Guangdong eat rice three times a day. This is because a lot of rice is grown in Southern China whereas Northern China grows more wheat. Cooking different kinds of rice and in unique ways is also something that can vary by region, so this also adds to the tradition. Rice is my main source of carbohydrates, especially during my marathon training. To this day, I still prepare rice in the way I was taught, and my children — even as adults — cook rice the way I taught them.