A New Jersey army camp from World War II is being transformed into 172 affordable rental homes – for veterans, low-income families and formerly homeless individuals with disabilities.
We've partnered with our Optigo® lender SunTrust and their sponsor Pennrose LLC to help make this project a reality – with a 9% LIHTC Cash Loan (forward commitment). The new community will house residents with incomes between 20 and 60 percent of area median income (AMI).
Twenty-five percent of the units will house formerly homeless individuals, while another 25 percent will become home to veterans. Residents will receive on-site support services, from nonprofit Triple C Housing, to help them improve their health and welfare.
The 22 units for residents with the lowest AMI, 20 percent, will have state developmental disabilities project-based vouchers to cover rent to 60 percent AMI and operating expenses for the additional services.
"This is a great project to work on," said Gavin Richardson, Freddie Mac Multifamily TAH producer. "It seems especially fitting that this military base, now in disuse, will become home to dozens of veterans who've served their country."
From World War II Soldiers to Today's Veterans
The historic U.S. Army Camp Kilmer in Edison, New Jersey was officially closed in 2009. Activated during World War II in June 1942, the camp housed our troops before they went off to war in Europe.
Through our 9% LIHTC Cash Loan, we provide a forward commitment for new construction, or a moderate to major renovation. We also offer immediate funding to help borrowers acquire or refinance properties. A deal with new 4% or 9% LIHTC may be underwritten to a minimum of 1.15x debt coverage ratio. And mixed-use properties are eligible.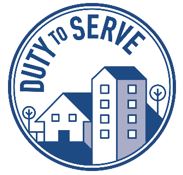 As the top funder of affordable housing in the U.S., we innovate to serve the needs of the market — and work to tackle the nation's most persistent housing challenges. Through our Duty to Serve commitment with the Federal Housing Finance Agency, we focus on rural and manufactured housing and preserving more affordable housing for renters nationwide.
Feedback

Have a comment or question? Email us to let us know what's on your mind.