September 14, 2023
Renovating Affordable Housing in Rural Appalachia
Jevue Club Apartments runs along the Ohio River in rural West Virginia and is within walking distance of the quaint town of New Martinsville.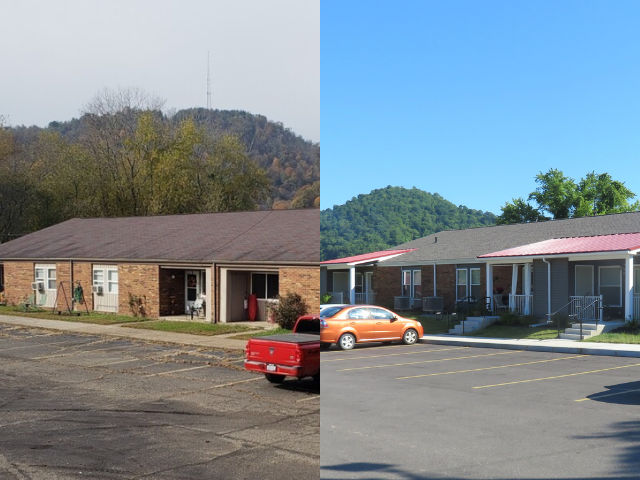 Left: Jevue before the renovations. Right: Jevue after the renovations.
In 2018, Freddie Mac Multifamily partnered with LIHTC Syndicator, CAHEC, to fund Buckeye Community Hope Foundation with $4.6 million that was applied toward the renovation of Jevue – an existing USDA-RD 515 multifamily property composed of 40 rental units that are affordable to households making no more than 60% of Area Median Income (AMI). Freddie Mac will receive an allocation of low-income housing tax credits as part of the investment.
"The allocation of 9% credits and subsequent equity investment not only allowed us to preserve the physical structures, but also the invaluable rental subsidy provided by USDA Rural Development," says Ian Maute, Director of Development at Buckeye Community Hope Foundation. "Jevue Club Apartments will remain a high-quality affordable housing option for years to come."
The rehabilitation project of Jevue Club Apartments consisted of an extensive renovation for five single-story buildings that were originally constructed in 1977, as well as the creation of a new community building.
Deal in Brief
Property Name: Jevue Club Apartments
Market: New Martinsville, West Virginia
Freddie Mac Funded: December 2018
LIHTC Syndicator: CAHEC
Borrower: Buckeye Community Hope Foundation
Freddie Mac Execution: LIHTC Equity of $4.56 million
Highlights:
40 two-bedroom units
10 units are restricted at 40% AMI or below
30 units are restricted at 60% AMI or below
Community amenities include computer center, playground, basketball court and multiple laundry centers
The refreshed exterior of an apartment at Jevue Club Apartments.

Jevue Club Apartments property sign.

New playground and sidewalk at Jevue Club Apartments.