When-Issued Trust certificates are bonds that offer investors a funded method to purchase certain K-Deal® certificates in advance of the K-Deal settlement, while earning a guaranteed coupon. Through this program, investors have a funded way to purchase certain K-Deal certificates before K-Deal settlement.
Program Details
Sale to Investor: WI Trust certificates are a funded investment that settles immediately after the WI K-Deal offering period
Features:

The WI Trust certificates are tradeable shortly after pricing
These are public securities backed by the Freddie Mac guarantee

Term: Less than or equal to 10.25 years for 10-year fixed-rate K-Deals and 7.25 years for 7-year fixed-rate K-Deals
Coupon: Initially fixed coupon amount, then pass-through of class coupon on related class of K-Deal certificates
Offered Classes: A-2 and/or A-M classes of 7- and 10-year fixed-rate K-Deals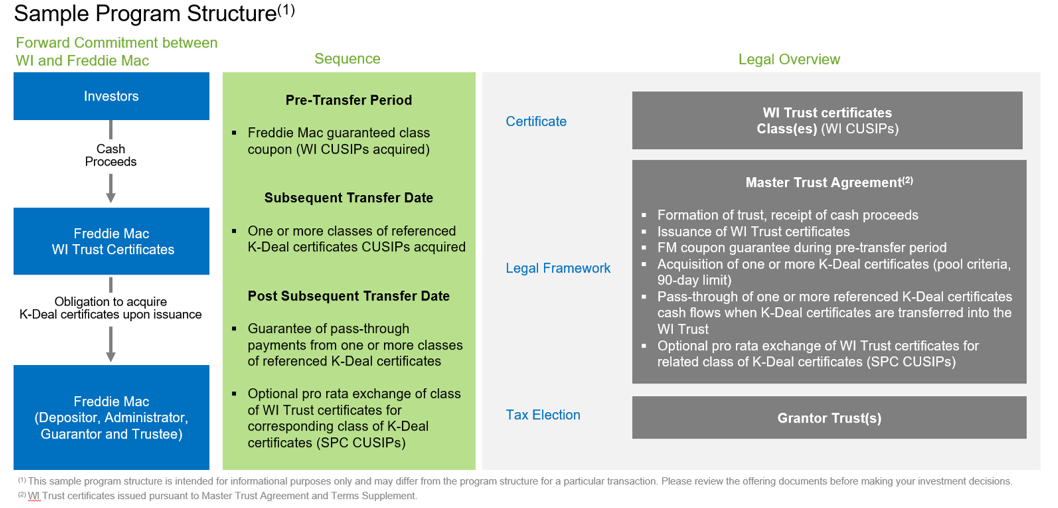 Benefits
Strong credit provided by the Freddie Mac guarantee plus the eventual additional credit support of an underlying multifamily mortgage pool underwritten to Freddie Mac's portfolio standards post-transfer date
Diversification post-transfer date through pooled risk of many assets versus single-asset risk unless otherwise indicated
Call protection associated with the prepayment features of yield maintenance during pre-transfer period and defeasance or yield maintenance or static prepayment premiums post transfer date
Guarantee of timely payment of class coupons and any yield maintenance amount prior to transfer date, and of timely payment of interest and ultimate payment of principal received on the related K-Deal certificates on the guaranteed certificates post transfer date
Disclosures
Find the below items on the Lookup Tools page.
Security Lookup
Historical Factors & Coupons
Historical Certificate Reports
Offering Circular Supplements & Exhibits