January 11, 2023
On the Bus and On-Site – to See Our Mission in Action
We're on-site and back on the ground with lenders to see our mission in action. In October 2022, the Freddie Mac Multifamily Targeted Affordable Housing (TAH) team joined Optigo® lender Berkadia for an in-person tour of three affordable rental properties in the Washington, D.C. metro region.
"For many of our team, it was their first physical property tour since COVID-19 forced us to conduct inspections virtually," said Justin Dailey, Freddie Mac TAH producer and lead underwriter for Earle Manor. "Although we still offer virtual inspections for flexibility, we're glad to be back on-site inspecting properties beside our lenders."
Earle Manor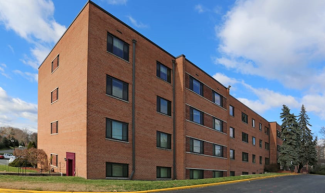 Earle Manor
Located just north of the district in Silver Spring, Maryland, Earle Manor is a 140-unit midrise apartment complex owned and operated by two nonprofit housing organizations, the Washington Housing Conservancy (WHC) and the Montgomery Housing Partnership (MHP).  
Established in 2018, WHC preserves affordable and workforce housing, prevents displacement and promotes economic mobility, particularly for moderate- to low-income renters. It has acquired over 1,400 units and is serving over 2,300 residents in the DC/MD/VA area. 
MHP serves more than 4,000 residents in Montgomery County, Maryland and neighboring communities by providing more than 2,600 quality affordable homes.
Making it Happen
In March 2022, Earle Manor was operating as a 100% market-rate property. In the fall, Freddie Mac helped provide financing through a $20.79 million 10-year Cash Preservation loan.
The transaction was also supported by a $5.6 million 10-year mezzanine loan from the Washington Housing Initiative Impact Pool, an investment vehicle managed by D.C.-area developer, JBG SMITH, that provides financing for the preservation and creation of affordable workforce housing in the region.
As a result, approximately 50% of the property will be restricted to tenants earning no more than 60% of area median income (AMI), and an additional 25% of the property will be restricted to tenants earning no more than 70% of AMI. The nonprofit ownership and rent restrictions also qualify the property for a 100% tax exemption from Montgomery County taxes. Both sets of restrictions will be in place for 15 years.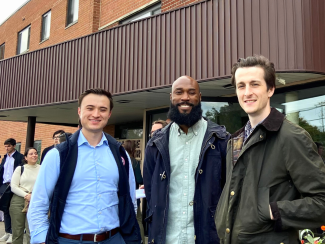 The Freddie Mac Multifamily underwriters who helped make the Earle Manor project happen.
"It was a surreal experience to meet residents and staff at a place that was once just numbers and pictures on a page," Justin said, "Especially knowing Earle Manor was previously 100% market rate and is now affordable to a much wider range of individuals and families."
The affordable housing crisis is persistent. We look forward to continuing to partner with our network to address this challenge — because your possibilities are our business.