April 21, 2022
Innovative Financing in the Puget Sound
In the high-cost city of Seattle, working families are finding themselves priced out of rental housing options, with increasing income disparities and the growth of big tech companies. But thanks to corporate partnerships and innovative financing, we're creating ways to meet the critical need for safe, affordable housing — one neighborhood at a time.
New Ventures for Affordable Housing
Urban Housing Ventures (UHV), created by Seattle apartment developer, Steam Real Estate, teamed up with Microsoft, Washington Trust Bank and Washington Federal Bank to launch their first fund with an equity lens, focused on creating financially diverse communities by reducing rental payments for qualifying residents.
Here's how it works: UHV enables investors to buy existing, market-rate apartments, then adjust rents so up to 40% of the units are affordable to middle-income levels, while still providing returns for investors. This new model makes Workforce Affordable Housing immediately available for middle-income earners like teachers and nurses.
"We need fresh, creative approaches like this one to quickly bring new private sector financing and funding to address the affordable housing crisis — in our home state of Washington and nationwide," said Microsoft President Brad Smith.
Fund I
In May 2020, UHV closed Fund I with financing from Optigo® lender Berkadia and Freddie Mac Multifamily.
With Fund I, UHV acquired three Class-A multifamily properties providing over 160 homes to middle income earners in the communities of Kirkland and Bellevue, Washington. They did this by reducing rent from market rate to affordable rates (60-80% area median income) on 40% of the existing apartments at Waterscape, Aventine, and Borgata Apartment Homes.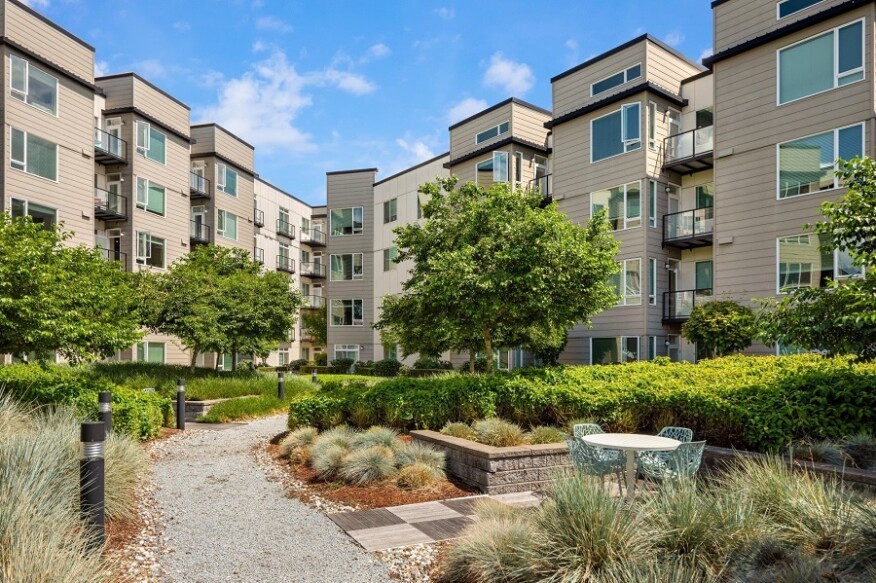 Pictured above: Waterscape at Juanita Village in the Puget Sound area.
This deal is a part of our affordable housing preservation efforts, working with borrowers who want to make a positive impact in their communities by preserving rents at conventional properties through voluntary restrictions. "We're proud to work with Berkadia on this deal," said David Quadt, manager of Conventional Structured at Freddie Mac Multifamily. "With their partnership, we are supplying debt financing that will create affordable rental homes for the workforce population."
All three rental properties are in prime urban locations and offer upgraded appliances, modern finishes and a variety of amenities. UHV allows many families to live where they work, in a place with lots of opportunities, at rents they can afford.
"Affordable housing is a critical issue that requires deep commitment and innovative problem solving from all sectors," said Berkadia CEO Justin Wheeler. "We will continue the crucial work that supports the shared mission of our partners to provide safe and affordable housing for communities in the Pacific Northwest and across the country."
It Doesn't Stop Here
Cities are stronger and more vibrant when those that contribute to the community can also afford to live there. The hard work of preserving and creating affordable housing persists, and we look forward to future partnerships like this one to help us carry out our important mission.