June 12, 2020
Historic Investment in Tulsa Creates New Housing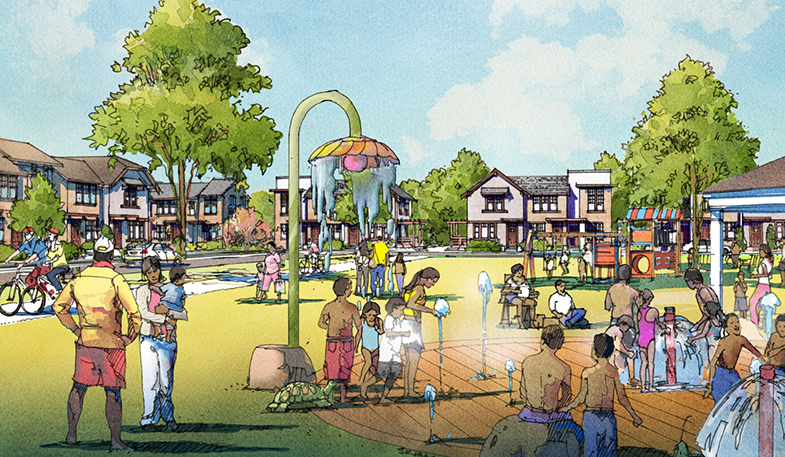 A major effort is underway to revitalize a riverside Tulsa, Oklahoma community and provide affordable housing, with construction starting on the River West apartments — financed in part by a Freddie Mac loan as well as our Low-Income Housing Tax Credit (LIHTC) equity investment.
The neighborhood, known as Eugene Field, borders historic Route 66 and the Arkansas River, with a view of the Tulsa city skyline in the distance. It will become the vibrant River West community — through a public/private initiative and the largest affordable housing investment in Tulsa's history, totaling more than $200 million.
Collective Effort, Master Redevelopment Plan
Tulsa was one of five cities in 2017 to receive a Choice Neighborhoods Implementation Grant from the U.S. Office of Housing and Urban Development (HUD). The $30 million was awarded to the City of Tulsa, and The Housing Authority of the City of Tulsa (THA). Combined with more than $170 million in local and private support, the funding will help make affordable housing available and transform the community.
The plan includes more than 450 mixed-income housing units, a five-acre park, a grocery store, and major infrastructure improvements funded by the city, such as new roads and sidewalks.
The aim is to connect the neighborhood to downtown and improve walkability, while developing entertainment and commercial opportunities related to historic Route 66.
The Oklahoma Housing and Finance Agency (OHFA) established a Choice Neighborhoods set-aside, providing 9% LIHTC funding — the largest tax credit award in the agency's history. The Anne and Henry Zarrow Foundation committed $12 million for affordable housing and the George Kaiser Family Foundation provided a $3.25 million grant.
River West Affordable Housing
River West phase I construction is underway to build 74 affordable units in 13 walk-up buildings and townhouses, along with a tornado shelter. More than three-quarters of these units are restricted to 50-60% area median income (AMI). The 21 unrestricted units will have asking rents in line with 60% AMI rent levels. LIHTC units will benefit from project-based Section 8 vouchers that limit rents to 30% of a tenant's annual income. There will be six phases of housing development.
Residents at River West will also have access to case management services and a career/outreach coordinator.
Freddie Mac is investing $10 million of LIHTC equity in River West phase I, working with our syndicator RBC Community Investments, LLC.
With our Optigo® lender PGIM Real Estate, we'll also provide $5.1 million permanent debt — through a 9% LIHTC Forward Commitment. 
There are more than 40 partners involved in this community redevelopment. "The magnitude of this project and its potential to completely transform the Eugene Field community and the lives of its residents cannot be overstated," said Aaron Darden, THA president and CEO.