$500 Million Milestone: Investing in LIHTC Affordable Housing
We've surpassed the $500 million mark in Low-Income Housing Tax Credit (LIHTC) investments in just our first year reentering the market.
Working with our LIHTC syndicators and partners, we're making more affordable homes a reality for renters across the nation — in communities where it's most needed. Our strategy is part of our Duty to Serve plan, which aims to address some of the country's most persistent affordable housing problems.
We invest in rural communities and places with the most serious affordable housing needs. Our focus includes communities underserved by current LIHTC investors. The goal is to encourage developers to create and maintain affordable housing properties in these hard-hit areas.
From Downtown Memphis to the Great Smokies
"We invest to support low-income people in communities all across America," said David Leopold, vice president of Targeted Affordable Sales & Investments for Freddie Mac's Multifamily. "Our investments are housing those who were homeless and providing them with critical resident services… Building homes for families displaced by hurricanes in Houston, North Carolina and Puerto Rico. We're making a difference in urban and rural communities — from downtown Memphis to the Great Smoky mountains."
In El Paso, we're housing seniors through a historic renovation of the Sun Plaza development. Further West in Los Angeles, our investments are providing homes for people with special needs and homeless veterans — in Skid Row, a 54-block area with the nation's largest concentration of homeless people.
We're delighted to work with six LIHTC syndicators to make these critical investments:
Boston Financial Investment Management
Hudson Housing Capital LLC
RBC Tax Credit Equity LLC
Enterprise Housing Credit Investments, LLC
National Equity Fund, Inc
Community Affordable Housing Equity Corporation (CAHEC)
The Low-Income Housing Tax Credit (LIHTC) program is a win-win for apartment developers, investors and tenants alike. It gives investors a dollar-for-dollar reduction in their federal tax liability in exchange for investments in affordable housing. Investors like it because they get a tax credit. Developers like it because they receive much-needed cash for their rental properties, which keeps them from having to take on more debt. And tenants like it because it leads to more rental units that are affordable—and stay that way.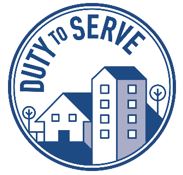 As the top funder of affordable housing in the U.S., we innovate to serve the needs of the market — and work to tackle the nation's most persistent housing challenges. Through our Duty to Serve commitment with the Federal Housing Finance Agency, we focus on rural and manufactured housing and preserving more affordable housing for renters nationwide.
Feedback

Have a comment or question? Email us to let us know what's on your mind.