Please note the Mezzanine Financing pilot is no longer being offered.
We've launched a novel offering to help Borrowers keep rents affordable for low-income and working families.
With our Mezzanine Loan, Borrowers receive favorable financing in exchange for maintaining affordable rents for the life of the loan. And, we'll fill in the gap between debt and equity with added capital.
It's straightforward for our Borrowers and Seller/Servicers to get the financing they need: We originate a Mezzanine Loan at the same time as a 10-year Freddie Mac Conventional or Targeted Affordable Housing Loan. All with the speed, efficiency and certainty of execution we're known for.
Read the Wall Street Journal article.
"We're using our industry leadership once again to deliver a groundbreaking innovation — to create and preserve affordable rental housing in communities across the nation," said David Brickman, executive vice president and head of Freddie Mac Multifamily.
We offer:
Up to 90 percent leverage for eligible properties
Combined DCR as low as 1.05x
Straightforward annual monitoring of rents to ensure continued affordability
Eligible properties start with at least 50 percent of rents affordable to households earning 100 percent of Area Median Income or less. Borrowers then agree to limit rent growth on 80 percent of the units for at least the 10-year loan term.
Get best-in-class mezzanine financing with Freddie Mac Multifamily and our approved network of Seller/Servicers.
56 – for every 100
The number of affordable, available rental homes for every 100 low-income renter households — who earn 50 percent of Area Median Income
Source: National Low Income Housing Coalition March 2018 The Gap report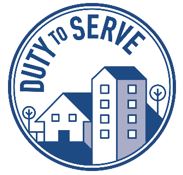 As the top funder of affordable housing in the U.S., we innovate to serve the needs of the market — and work to tackle the nation's most persistent housing challenges. Through our Duty to Serve commitment with the Federal Housing Finance Agency, we focus on rural and manufactured housing and preserving more affordable housing for renters nationwide.
Feedback

Have a comment or question? Email us to let us know what's on your mind.