"This is the nicest place I've ever lived," a resident remarked at the dedication of the Victory Crossing apartments—a brand new, affordable community for seniors in Silver Spring, Maryland.
To help make the housing a reality, Freddie Mac provided its first tax-exempt loan with the Maryland Community Development Administration—as part of our mission to finance affordable rental homes nationwide.
"Our goal is to provide capital as efficiently as possible — so that units stay affordable over the long-term," said David Leopold, Freddie Mac Multifamily VP of Affordable Sales and Investments. "We deliver capital with fewer costs, so more money can go to house residents and provide services."
Nonprofit Sponsor
"A gem that builds gems," Leopold said of sponsor Victory Housing — the nonprofit housing development arm of the Catholic Archdiocese of Washington.
The Freddie Mac team joined our lender, Capital One, at the event, alongside Archbishop of Washington Cardinal Donald Wuerl, Maryland and Montgomery County officials, and several of the community's first residents — who'd moved in just the day before.
Freddie Mac TAH Director Lynn Extein, who structured the transaction as the relationship manager for Capital One, said Freddie Mac was pleased to offer $7.7 million in permanent financing, with Capital One providing a construction loan of just over $11.3 million.
"This is a beautiful new community," said resident Brenda Carr (right) with her new neighbors. "We moved in yesterday, and the three of us are already becoming fast friends. I have a feeling we are going to become a nice close-knit family."
Maryland Secretary of Housing and Community Development Ken Holt recognized "Freddie Mac's unique financial innovation" and "creativity and willingness" to help make the deal happen. "Freddie Mac has created a tax-exempt product that wrings out costs to make this housing work. The result was very favorable pricing … and the right kind of results for seniors."
The mixed-income community has 105 units — 95 of which are deemed affordable with 10 units at market-rate. The team's tour of the apartments highlighted the arts and crafts room, fitness and wellness rooms, game room and the library/computer area.
"Affordable housing like this is so critical for seniors with fixed incomes — in an area that has some of the highest housing costs in the nation," said Montgomery County Housing Opportunities Commission Chair Jackie Simon. She noted the need for "affordable options so residents can age in place — and stay connected to the county they call home."
Brian Hayes (far left) and Ed Delaney (far right) of Capital One, Freddie Mac's David Leopold (2nd from left) and Lynn Extein (2nd from right) with resident Brenda Carr (center)
Lender partner Edmund Delaney, Capital One SVP, who grew up just around the corner, said the community "passes the Mom test. It's a place I'd feel comfortable knowing my Mom lived here." It's great for "seniors to live in comfort and safety in an attractive environment, right here in the heart of the Silver Spring community."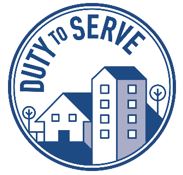 This project is part of our commitment with the Federal Housing Finance Agency to preserve affordable housing and help underserved regions through Duty to Serve.
Feedback

Have a comment or question? Email us to let us know what's on your mind.