Tarrah Marbach
ROLL WITH THE WAVES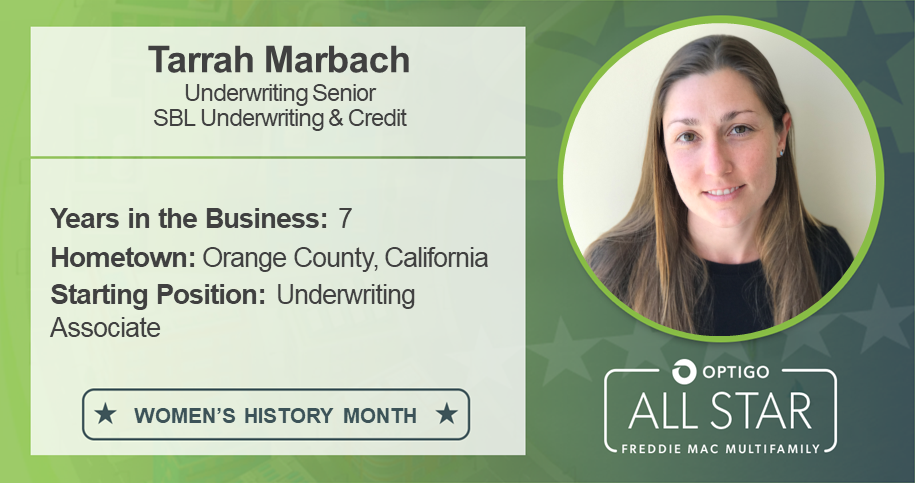 Meet Tarrah Marbach, an underwriting senior on the SBL Underwriting & Credit team. Her unique path to Freddie Mac reflects the dynamic qualities she brings to her work. Tarrah was introduced to the industry from a young age with a family rooted in real estate. Growing up in Orange County, California, her mother owned a business and served as an escrow officer for single-family homes, while her stepfather was a real estate agent. This early exposure helped spark Tarrah's interest in a career in real estate.
Tarrah initially studied art at Golden West College before developing an interest in American Sign Language. To pay her way through school she worked as a loan processor at her mother's office, which ultimately kick-started her career in multifamily finance. Later in college, she worked for a lending company as an underwriting analyst, introducing her to the underwriting and credit side of the lending business. After an introduction from a former boss, Tarrah began working at Freddie Mac in 2016 as an underwriting associate. Now an Underwriting Senior, Tarrah works to bring low-income housing liquidity into the market through a smaller niche of multifamily properties. Tarrah's range of experiences and perspectives makes her an asset to her team.
What do you like about working at Freddie Mac?
A: I appreciate the people I work with at Freddie Mac. My department understands that I am human and there can be stressful times. They respect and support work-life balance. They understand that people can sometimes be right and sometimes be wrong, that people make mistakes, but regardless, it's okay to move forward and continue growing. At the end of the day, I can rely on my teammates to pick up the phone or message me on Teams to work through any stressors in my workload. We have each other's back.
How do you think Freddie Mac promotes diversity/inclusivity?
A: It's wonderful to see the variety of people we hire, including those without traditional background and educational experiences. Freddie Mac gives them the opportunity to learn and grow within the company. Through our quarterly rotations to different departments, I personally have been able to gain valuable experiences that expand my knowledge of underwriting.
What makes a great teammate or ally?
A: A great teammate or ally is someone who's willing to think outside of the box. Creative thinking can lead to better solutions when there are no roadblocks. Open communication is also important. My teammates are always willing to reach out and be available to discuss a project, deals, ideas or catch up on our personal lives. Overall, communication is huge.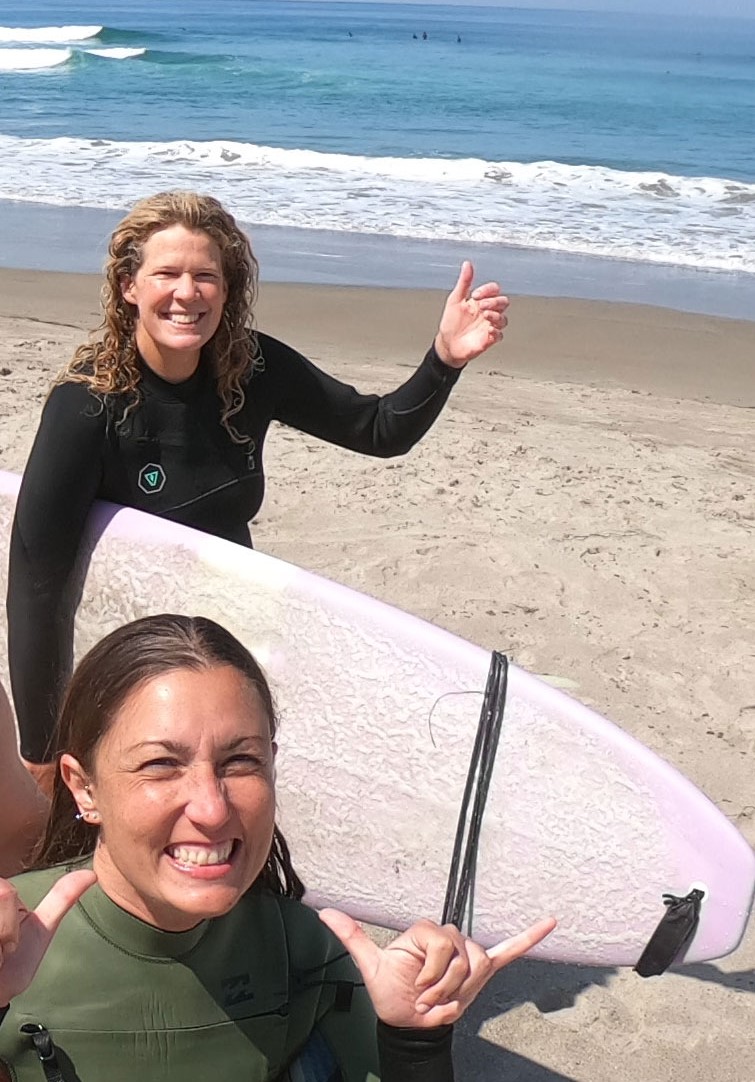 Tarrah and her friend, Bridget, surfing in La Fonda, Mexico.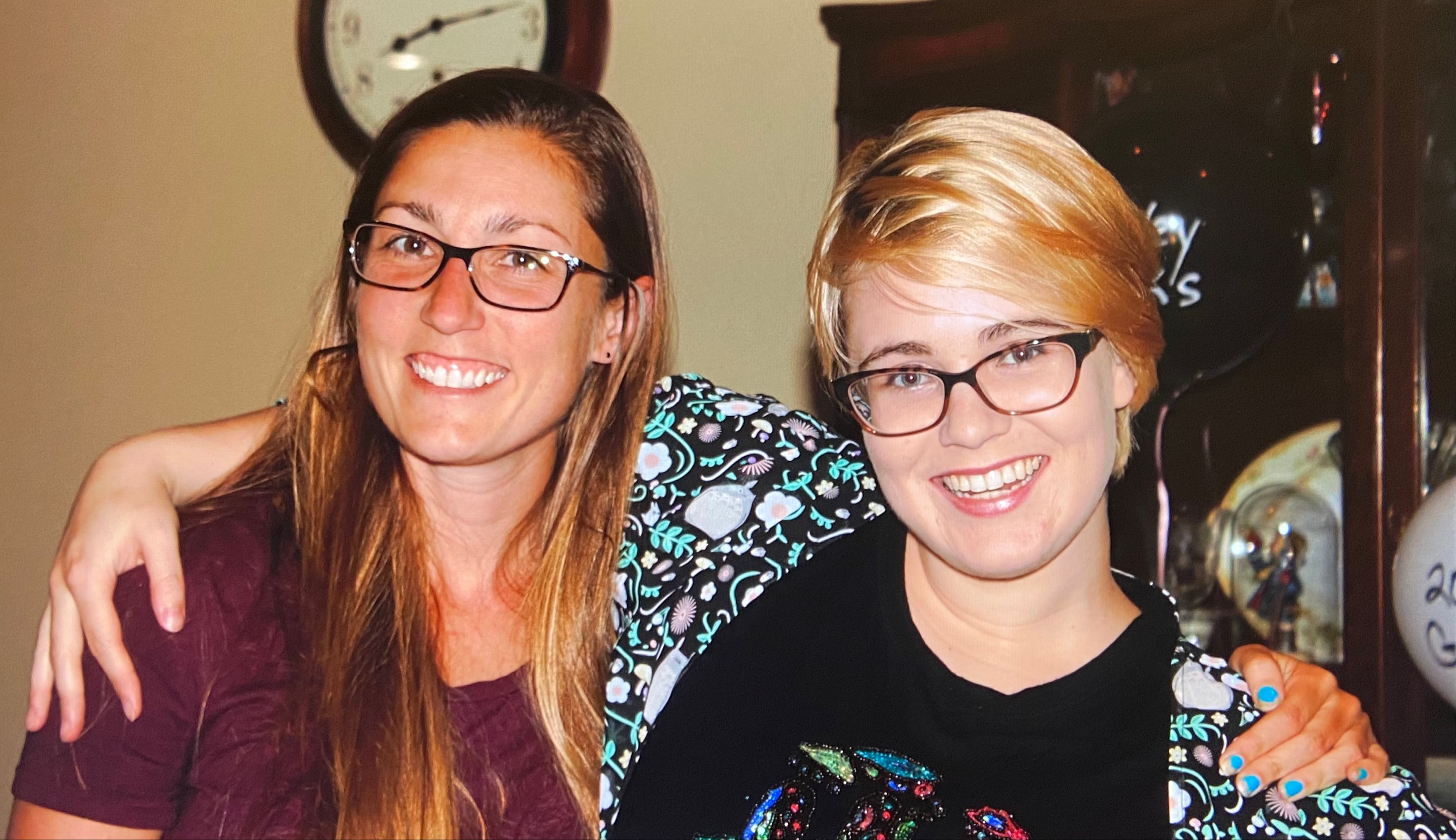 Tarrah and her sister, Haley.
Which women figures do you admire?
A: Women who have achieved great things despite the challenges they've faced inspire me. Educated women who contribute to the world are particularly inspiring. I have a close friend, Bridget Seegers, who is a scientist that works at NASA. She worked incredibly hard to earn her PhD, and even gave a TED Talk in Miami. Her positive attitude and dedication to her work are admirable. Despite her busy work schedule, we still can make time to go surfing.
My little sister, Haley Brooks, is also inspiring. In 2019, at 24 years old, she was having a hard time finding a job she was passionate about. A company reached out and asked if she'd be willing to go to Changsha, China to be an English tutor to young children from ages 4-7. She had never been to China before and it was a massive life change, but she took the job, and she loves it there. I admire my sister's bravery to go on her own, especially during the COVID-19 pandemic.
I guess you could say I'm lucky enough to be surrounded by woman who inspire me daily, and I hope to do the same for others one day.