Steven Cato
WHEN OPPORTUNITY KNOCKS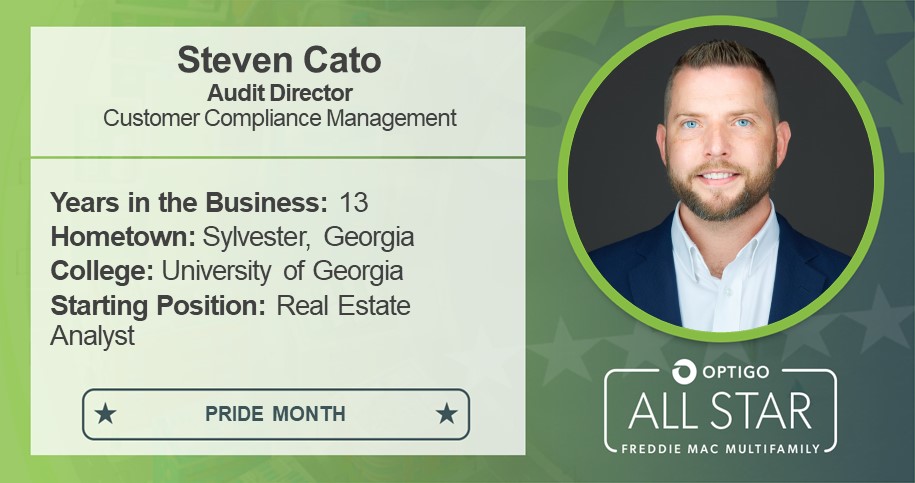 Steven was born and raised in rural southwest Georgia, the youngest of seven children and a surprisingly late addition to the family. Growing up surrounded by much older siblings instilled in him a sense of independence and confidence at an early age.
Steven attended the University of Georgia, where the Real Estate program in the business school piqued his interest. Despite admittedly not being a numbers guy, he learned the ins and outs of commercial real estate finance. Steven has even doubled down on the subject: He's currently working toward his Master's in Real Estate at Georgetown University.
His Freddie Mac career started after posting his resume to Monster.com and landing a summer internship at the McLean, Virginia headquarters in 2008. With one of his sisters already living in the D.C. area, the opportunity felt like a perfect fit. So, Steven packed his bags and set off.
During that internship, Steven discovered how much he enjoyed working at Freddie Mac — from the people he worked with, to the company's mission, to realizing that what he learned in school could actually make a difference to people all across the country. Upon graduating in 2009, he applied for a full-time position.
Steven spent some time in the Multifamily Asset Resolution and Surveillance teams before joining the Audit Team, then moving on to build and manage the Counterparty Transaction team. When the Audit Manager position became available, Steven was asked to return to lead that area and he jumped at the opportunity.
The Multifamily Audit Team performs annual audits of the seller/servicer network to ensure they're in compliance with all aspects of the Freddie Mac Multifamily Seller/Servicer Guide, governing securitization deal documents and even individual loan documents. Evaluating compliance from end to end to mitigate and reduce operational risks the network may pose to Freddie Mac is a critical responsibility in contributing to our mission.
Steven shares a bit more color about working at Freddie Mac and how diversity factors into success.
What does diversity mean to you?
A: Diversity to me means embracing different ways of thinking, backgrounds and cultures. When you invite people who aren't carbon copies of you to the table, it results in a lot of learning, creating and innovating. It's an exciting lesson when someone else's lived experiences don't match your own and you discover something new from that perspective.
What trait makes a great teammate or ally?
A: Trust is the number one trait of a great teammate or ally. Being able to count on someone to do what they say they're going to do, when they say they're going to do it, creates synergy throughout teams and the organization
My team often bounces ideas off one another and works together to puzzle through unique or sticky situations. The phrase "calm seas never made a skilled sailor" is accurate for our area — and we've bonded enough to trust that we'll make it across the finish line for any project or task.
What do you like most about working at Freddie Mac?
A: I know the usual answer is the people and the culture — but it's true. Freddie Mac is full of unofficial mentors willing to teach and share information to help you navigate a path forward. I wouldn't be where I am today without the support of these unofficial mentors at Freddie Mac. Each time I was looking for the next step in my career, I was able to have candid conversations with my managers, who supported me and my goals.
If I had to pick a second favorite thing, it'd have to be the buffalo chicken wraps. Our cafeterias knock it out of the park with those!
June is Pride Month. What advice would you like to share with the LGBTQ+ community?
A: Find a culture or community that fully embraces you from day one. At Freddie Mac, I was always able to be my full, authentic self as an out gay man. Everyone is really supportive, and I never once felt awkward referring to my husband or sharing details about my life at work. I know it's not always easy but taking the steps to find a place and the people who fully accept you is important to your health – mentally, emotionally, and physically.