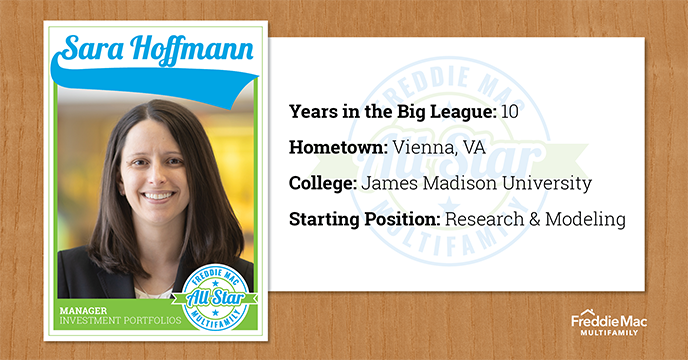 Sara Hoffmann is a Multifamily research & modeling manager in Capital Markets.
Growing up in a military family doesn't always mean you're a rolling stone. Sara grew up a stone's throw away from our McLean campus in Vienna, Virginia with her dad stationed at nearby Joint Base Andrews. He flew F-16 Fighting Falcons for the Air Force – hard to top that at career day at school!
She remembers driving by Freddie Mac every day on her way to school, wondering if the two statues out front found the bench comfortable and what was so interesting in that newspaper they're reading. Little did she know that she'd be seeing that same couple nearly every day as a professional too.
In her nearly 10 years at Freddie Mac, she's been completely immersed in supporting our Multifamily capital markets team. She started out on the costing team – using her numbers acumen to cost and price nonstandard loans – but moved to research and modeling because of her love of economics. Forecasting and modeling align perfectly with her interests and skills.
When she's not crunching data, she's planning for her next vacation with her family. Sara is a travel and logistics junky – she enjoys planning the vacation almost as much as the vacation itself! She relishes the art of discovering a new place, researching what to see and using her time efficiently. Next up? A 10-day trip to Scotland in May with her husband and 9-month old daughter. Now that's ambitious!
To see all the Multifamily All-Stars, click here.