Raj Thakar
GROWING THROUGH DIVERSITY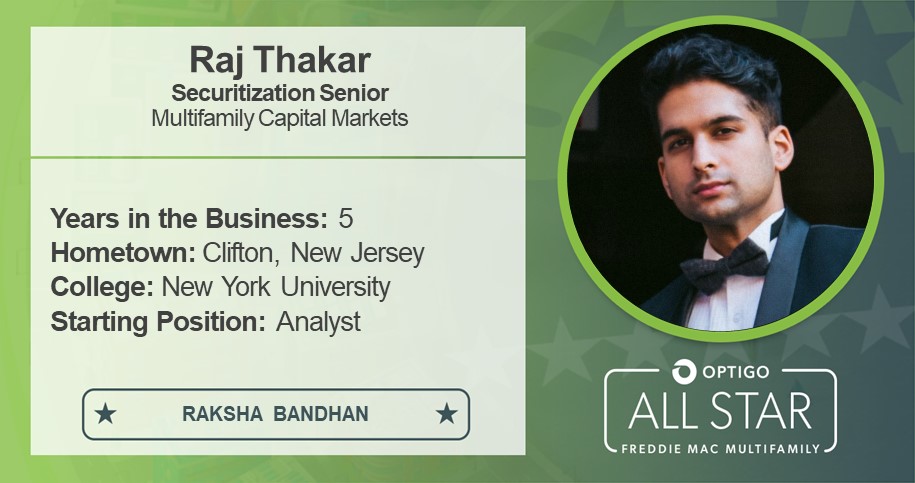 Raj was born and raised in Clifton, New Jersey — with roots that travel all the way to the province of Gujarat, India where his parents are from. He recalls his hometown of Clifton being an area rich in culture. According to the New York Times​ , Clifton was ranked the third most linguistically diverse city in the United States, with local officials reporting more than 70 different languages spoken in the homes of public school students.
After high school, Raj went to NYU and majored in Finance and Management. He landed his first job as a credit ratings analyst at Standard and Poor's (aka S&P Global) in New York City. Eventually, he traded his office view of the Brooklyn Bridge for an opportunity to move down to D.C. and work at Freddie Mac.
Raj joined Freddie Mac in 2018 and has been on the Capital Markets Securitization Team ever since. He is a deal manager on the Multifamily securitization desk, and his primary focus is to place debt with institutional investors. Raj enjoys the range of challenges he gets to resolve each day.
From diverse neighborhoods to diverse deal collateral, his background has served him well and is something he continues to celebrate. Let's hear more from Raj.
What's your favorite part about your job?
A: First: How much there is to learn. In my role, I get to see every stage of a deal, and how each loan fits into the larger model of the business. I'm exposed to the considerations for originating or underwriting individual loans, how we structure and securitize pools of loans, how investors and rating agencies look at our assets, legal analyses and risks, asset management, compliance, and other instrumental parts of our process. As a result, I have a very holistic view of our commercial real estate securitization platform.
Second: Freddie Mac has a massive market footprint and an incredible mission. We're built in a way that doing well yields positive externalities — ultimately, we extend financing to underserved communities.
What makes a great teammate or ally?
A: Communication and patience. These two go hand in hand; you need to be honest with yourself and others. Communicate and speak up if you need help - voice what you don't know. On the flip side, you need to have patience with yourself as you learn new things and strengthen relationships.
Advice to others on bringing their "full self" to work?
A: Well, it depends how you interpret this question. 1.) To bring your best self, you have to figure out what makes you feel good. Is it a regular routine, a healthy diet or unwinding after a long day? Whatever it may be, you need to take it seriously and set aside time for it. 2.) To bring more of yourself to work, in terms of your personality or heritage, look for avenues where expression is encouraged. At Freddie Mac, we have employee resource groups that bring people together to get involved and celebrate what makes us different.
Any holidays coming up that you celebrate?
A: Toward the end of the year, my family gets together at least four times. In addition to Thanksgiving and Christmas, we celebrate Raksha Bandhan and Diwali.
Raksha Bandhan means "bond of protection" and is also known as Sister's Day. It's an annual celebration to honor the relationship between brother and sister. I don't have sisters, but I have four cousins who I consider sisters. On the day, one's sister will bless their brother with red ink, sacred barley, feed you an Indian sweet and tie a sacred thread around your wrist to signify that she's there for you — and the brother will give her money to signify that he loves her and will protect her.
Diwali is the Indian New Year. You know how people do spring cleaning? Well, in the lead up to Diwali, most Hindus will thoroughly clean their homes (and if they're very serious, even get renovations done). We also decorate the house and dress a little better for dinner, even if it's at home. I take the time to call my grandparents and pay respects to my elders. At the end of the day, it's just nice to get together with family, celebrate life and have a good meal.