Olivia Stevenson
PAVING YOUR OWN PATH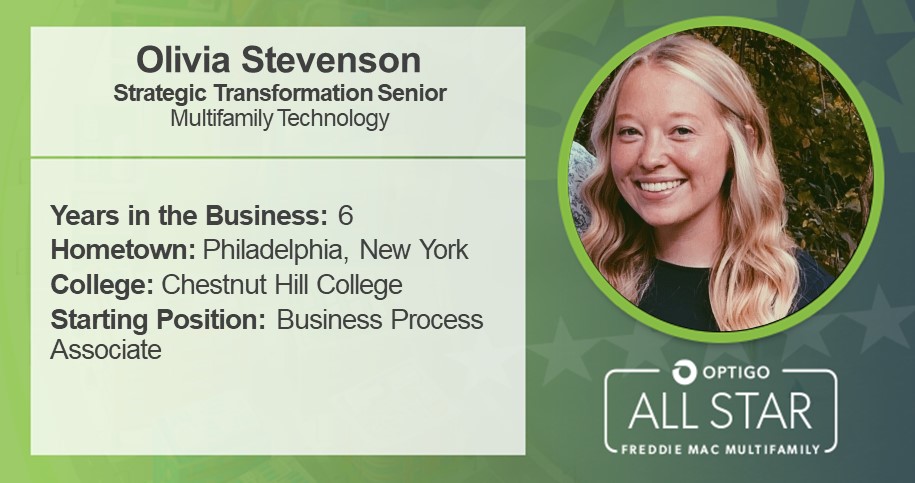 Olivia Stevenson is used to thinking outside of the box and remaining agile – skills that stem from her unique upbringing and learning challenge.
Olivia was born in Massachusetts and moved to a small town called Philadelphia in northern New York, at the border of Canada, when she was five. Her father bred draft horses and ran an organic dairy farm while her mother drove 1.5 hours to the closest airport every week to travel for her finance job. Olivia would sometimes join her mother on those trips, which exposed her to many northern cities, like Boston and Providence, Rhode Island. She had the best of both worlds: a pastural childhood with bits of city life interspersed throughout.
A defining moment for Olivia was when she was diagnosed with dyslexia, which affects learning skills involved with reading, spelling and writing. With the support of her parents, she quickly pivoted by strengthening her verbal communication and interpersonal skills. By maintaining a positive attitude, she successfully navigated learning in grade school and became a great problem-solver.
Olivia went to Chestnut Hill College in Philadelphia (this time in Pennsylvania) and completed a double major in Education and French, with a minor in Special Education. Her first job was at a Dutch Bank working in Leasing Resolution. She credits her mentor then for introducing her to project management, which inspired her to go to Villanova University to complete a master's certification in Agile Project Management.
Shortly after receiving her certification, Olivia landed a job at Freddie Mac in 2016. She started out in the Multifamily Project Management/Delivery Office, which shaped her career path at the company. Olivia had her hands on all sorts of projects, from resource management to financial forecasting. The relationships she's developed along the way helped her land her current role as a senior on the Portfolio Strategy Team.
In this group, Olivia is the jack of all trades. She handles program governance to ensure the various technology projects are on track, helps decommission systems, supports headcount budgeting and forecasting, onboards new staff members, and builds project status reports for stakeholders so everyone is aligned. Olivia thrives on the varied tasks and challenges presented by each project.
Let's hear directly from Olivia about the benefits of diversity and how Freddie Mac contributed to her growth.
How does diversity and inclusion play a role in your life?
A: In life and work, diversity and inclusion are paramount. It's about bringing unique perspectives to the table. The people I've met have shaped who I am today and encouraged me to try new things because of their backgrounds. In our global society, it's critical to have an appreciation for one another's differences.
What trait makes a great teammate or ally?
A: A great teammate is someone who's consistent and positive. I can rely on them to contribute to the team dynamic by creating an atmosphere of positivity and trust.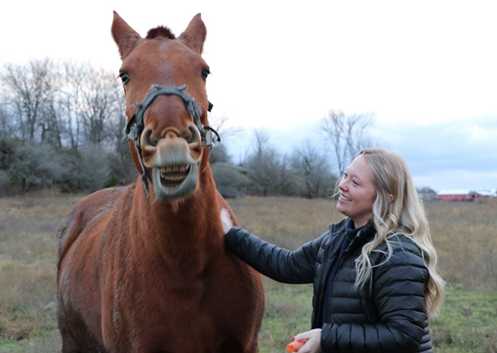 Olivia with one of her dad's draft horses.
What do you like most about working at Freddie Mac?
A: Besides the truly impactful work that we do, I would have to say the culture. It's about openness and growth — it still surprises me how much people are willing to teach you. If you want to learn more about a particular area, colleagues in that space are always willing to connect with you on it. It's a rare trait in a company that people go above and beyond to support each other.
Freddie Mac has also given me some of my best friends. I've celebrated weddings (I was the bridesmaid for one!), engagements and other life milestones of many colleagues. They make coming to work enjoyable.
It's the night before the championship game. How are you preparing?
A: Knowledge is power to me. Whether it's the day before a big presentation or when I had a tennis match in college, knowing my subject matter or opponent was key for me.
In college, I was also introduced to guided meditation, which has served me well over the years. If I'm anxious, meditation helps me set a positive tone for the next day.