David Snyder
OUTSIDE THE STRIKE ZONE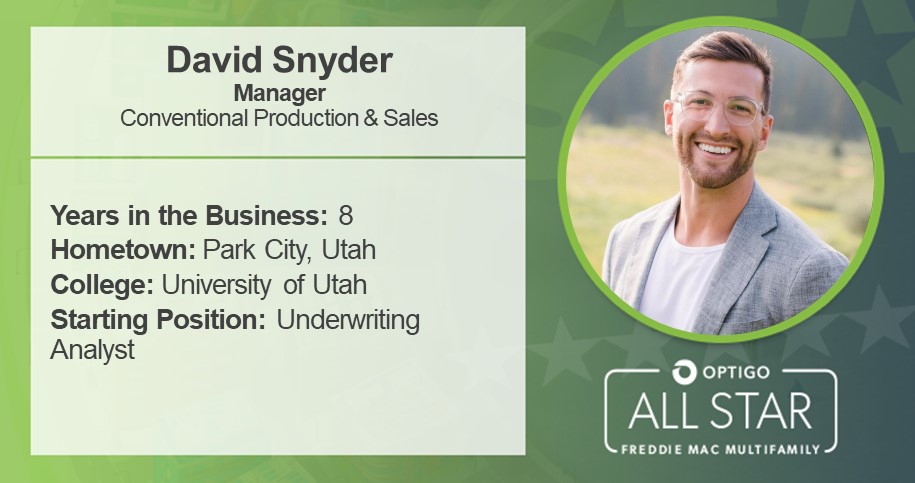 David Snyder has lived in many states throughout his life, but he considers Park City, Utah his hometown. It's where he went to school from sixth — 12th grade and spent most of his childhood outdoors: hiking, biking, snowboarding and playing short-stop on his local baseball team.
Like many young athletes, David aspired to play professional sports and went to the University of Oregon with hopes of walking on to the baseball team. He was up against some tough competition and gave it his best but unfortunately, it didn't pan out. However, his years of experience hitting curveballs did pay off.
David made a pivot and transferred to the University of Colorado to finish his studies. Following in his father's footsteps, he interned at real estate firms while getting his undergraduate degree and quickly found his niche. His first job after graduation was for a private developer in Salt Lake City where he assisted with commercial and residential development within a 4,200 acre master-planned community. He enjoyed it but wanted the challenge of a faster paced career.
When David first applied to Freddie Mac, he didn't get the interview but months later he got a call. He took the opportunity to move back to Denver and work at Freddie Mac's satellite office as an underwriting analyst. It was exactly what he was looking for: working on a small team at a big firm.
After earning his MBA in Finance, David was interested in expanding his role to do more for the company. He discussed ideas with his managers and became a dual region producer. It was the first time a lender had dual regional coverage from a Freddie Mac Multifamily representative — and it worked!
Fast forward seven years, David is a manager on the Conventional team for the West and Central regions and works closely with JLL — one of our top five Optigo® lenders. With a little creativity, courage and the ability to pivot, David's career has grown exponentially. Nowadays, when he isn't originating loans for our lenders, he's playing golf, pickleball or watching Denver sports on TV. Let's hear more from David on what it takes.
What's your favorite part about working at Freddie Mac?
A: The people. When you spend at least 40 hours a week with your colleagues, they become your adopted family. I have so much support from my team. Not only do they help me excel at my job, but I truly enjoy working with them.
What trait makes a great teammate or ally?
A: Selflessness. I'm a huge hockey fan so instead of saying "I" and "me", it's "we," "us" and "the team". If you can be a part of that culture, you're naturally going to be a good teammate.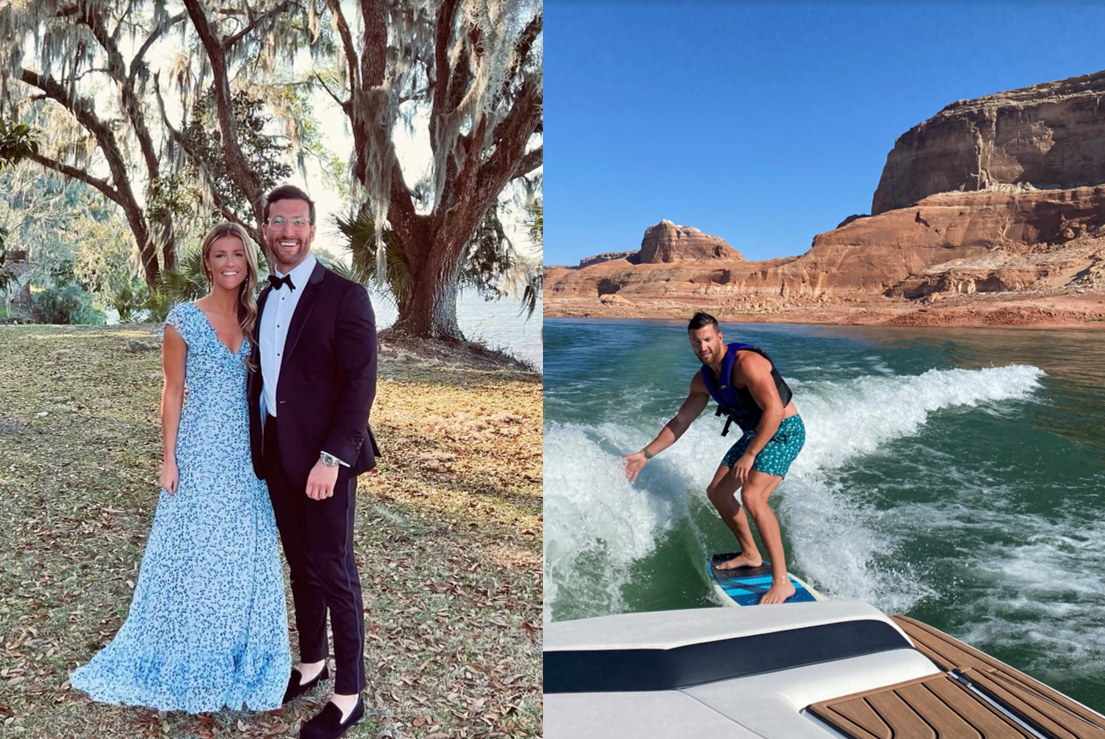 Left: David and his wife, Morgan, at a wedding in South Carolina. Right: David wakeboarding at Lake Powell.
How do you bring inclusivity to your team?
A: I don't care who you are or what your title is. If you're willing to be a part of team with me then I'll make sure that we achieve success together. I'll always have the mindset that it's "our" team — together, we welcome all and uplift each other.
The championship game is tomorrow. How do you prepare?
A: I'm convincing myself that I was born ready. It's all about the confidence. If you go into the game feeling like you're unprepared then you're not going to rise to the occasion. So, do the prep you need, set expectations and feel good about what you have to bring to the table — or else you're going to come up short.
Advice to others on bringing their "full self" to work?
A: Working 250+ days a year is a grind, no doubt, but if you don't reward yourself with the small wins then you won't be able to bring your full self to work. By celebrating the small wins, you learn to appreciate the effort you're putting into your job. This makes the days easier to grind through and more enjoyable.
Looking back on your career, what's one piece of advice you'd give your younger self?
A: I've gained so much by doing the uncomfortable things. Working hard is easy but pushing yourself outside of your comfort zone is the hardest part. Approaching someone you don't know or asking your boss for more work is uncomfortable and no one teaches you how to do it, but once you do it… that's when the real growth happens. So, I'd tell myself to keep stepping outside of my strike zone and doing the uncomfortable things.