Chris Osborn
MAKING AN IMPACT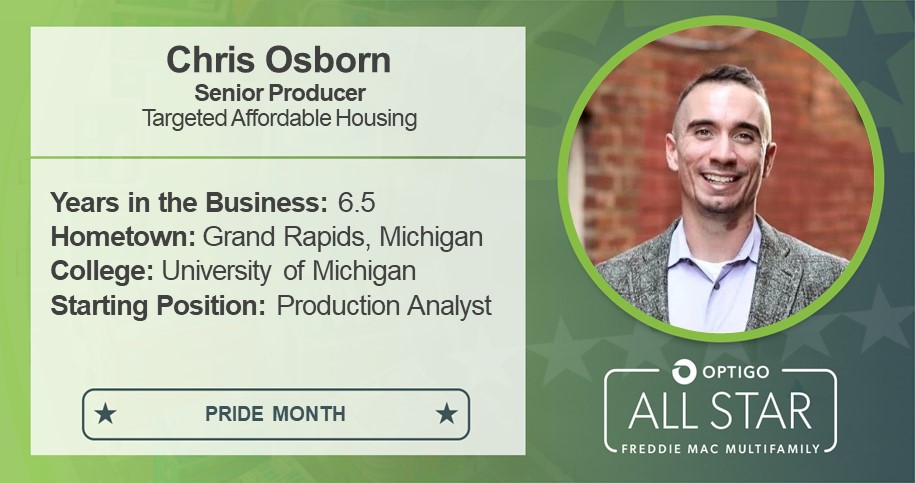 Chris Osborn fell into the real estate world by chance and fell in love with it by choice.
It all started when Chris was 18 working at his stepdad's mortgage brokerage firm doing cold calls. While he was studying at the University of Michigan, Chris had several internships at real estate investment firms, but the one that opened his eyes to the difference he could make was with Freddie Mac in 2012. After a taste of what Chris could contribute to affordable housing, he knew he had found his path: making a public impact while working in the private sector.
In 2014, Chris graduated from the University of Michigan with a bachelor's in Economics, minoring in Musicology. He went back to Freddie Mac and landed a production job with the Targeted Affordable Housing (TAH) Group. Chris dived right into the work, committing himself to the mission and goals.
Today, Chris is a senior producer on the TAH Retail Team managing three Optigo® lender accounts. His every day is focused on structuring and negotiating debt options for affordable lenders in the multifamily space. As a producer, Chris enjoys the relationship-building and problem-solving that's required for his role – and over the 6.5 years he's been doing this, he is skilled at finding the right financing solution.
And his love of real estate? It never dwindled. While working full time at Freddie Mac, Chris completed his Master's in Real Estate at Georgetown University.
Chris shares his thoughts on diversity in the workplace and how making oneself vulnerable leads to bigger conversations.
How do you promote inclusiveness in your team or in your life?
A: I promote a welcoming and inclusive environment by encouraging people to speak up. When people feel safe in their environment, they're more confident to take calculated risks that contribute to the bigger conversation.
Use of language and intention is also important, especially as someone who identifies as LGBTQ+. For example, instead of asking whether a colleague has a wife/girlfriend, lean toward gender-neutral terms. Ask instead whether they have a partner or are dating. It makes a big difference in promoting an inclusive environment for all when everyone feels comfortable to be themselves.
At the end of the day, an inclusive environment contributes to a diverse environment. A community that is exposed to various experiences is stronger and more accepting.
What trait makes a great teammate or ally?
A: A great ally is someone who recognizes their own biases and works toward correcting them. It's important to acknowledge you don't know what you don't know. I respect that more than assumptions.
I also love teammates who are eager to learn and are ambitious. I've had the chance to mentor some of the younger analysts on my team and help them grow into their role. It's another rewarding part of my job that I enjoy.
What first interested you about Freddie Mac as a company?
A: I did a lot of research on companies that had inclusive policies before applying for a job. Freddie Mac was one of the first Fortune 500 companies in the 80's to offer same-sex domestic benefits. They led the way in offering a benefit that wasn't socially popular at the time — and that speaks volumes of the organization.
Once I got into Freddie Mac, I found a lot of great mentors. As an analyst, I directly emailed a senior executive who openly identifies as LGBTQ+ and requested a chat over coffee. There was no hesitation from the executive — just support and willingness to share their story.
June is Pride Month. What advice would you like to share with the LGBTQ+ community?
A:
Leverage your network and seek out mentors. I'm lucky to have managers who've supported me professionally and personally during my time at Freddie Mac.
Share your adversity story. I wear my heart on my sleeve because it builds deeper relationships with people. There's a power in making yourself vulnerable because it disarms others and makes them comfortable to be vulnerable with you. You can build meaningful, authentic and genuine connections by sharing your story.
When you come out at work, I advise those to keep it as casual as possible. When someone asks me if I have a girlfriend, I respond with, "No. I broke up with my boyfriend of a year-and-a-half a few months ago. How about you? Are you dating anyone?" I don't hide who I am in part because I want to normalize the LGBTQ+ experience that straight coworkers might not be exposed to. I'm proud to see the progress made for the LGBTQ+ community, but there's still more to be done. It helps immensely to be employed at a company that embraces me for who I am, so I can come to work with my full self every day.