Catherine Justice
LEADING BY EXAMPLE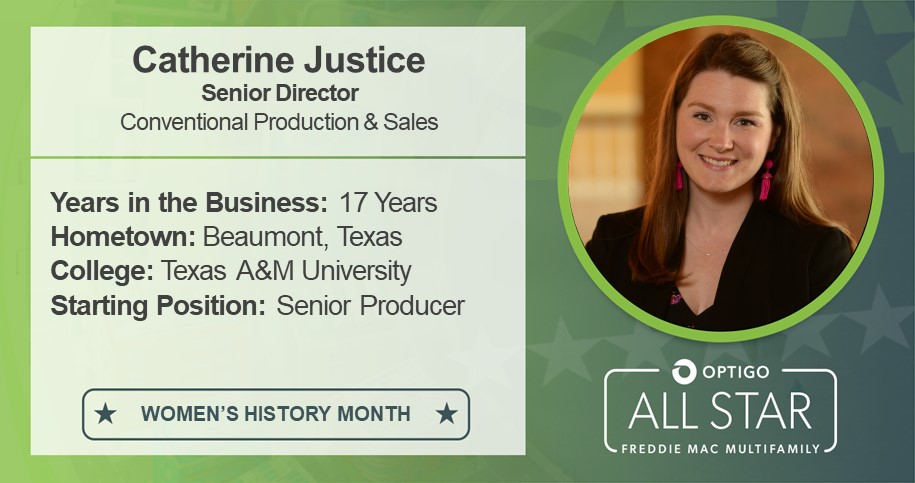 One of the key strengths of our production team is regional expertise. We can credit that to production team members like Catherine Justice, senior director and production lead for the Central region. She's the only Conventional production staff member in Houston and manages a lot of the Texas business; however, she also frequently travels to Austin and Chicago, our field and regional offices, respectively.
Catherine grew up in Beaumont, Texas, a small town east of Houston, and attended Texas A&M University for her undergraduate in Finance. The summer before her senior year, Catherine got her first taste of the real estate world at an internship with NorthMarq. She loved the tangible aspects of the job like going on property inspections and meeting borrowers. With this newfound interest, Catherine loaded up on real estate electives during her senior year.
Her parents cautioned her against jumping into real estate before exploring other career options in the financial industry. She heeded their advice — upon graduation, she took a job at SouthWest Bank of Texas in the Officer Development Program, where she completed rotations in different roles throughout the bank. This increased Catherine's exposure to various types of lending, including real estate, energy, commercial lending and private banking. In the end, she knew her heart was set on commercial real estate, so she went to CBRE and became an analyst on the Real Estate Capital Markets team.
In 2015, Catherine joined Freddie Mac Multifamily as a senior producer for the Conventional business line. Since her first year, the business has grown a lot — producers today generate almost three times as much business as when she first started. There are also many things that have stayed the same; Conventional's bread and butter continues to be the 10-year fixed-rate loan, and with the current shifts in interest rates, borrowers are leaning even more toward the fixed execution.
Today, instead of number crunching, like sizing and pricing loans, Catherine assists her team with how to structure or size unique transactions. Deal reviews are one of the many ways Multifamily's production team helps maintain consistency across regions. Catherine is also the primary relationship manager for Optigo® lenders JLL and Lument. As a lender relationship manager, she hosts monthly national calls to keep them abreast of the latest updates and assists them with process changes, like transitioning to working in myOptigo®. Catherine is also keenly focused on staff development and continually champions the growth of her team members across all aspects of their careers.
Let's hear from Catherine about how Freddie Mac has supported diversity and how women have shaped her career.
How do you promote diversity/inclusion within your teams?
A: Management in the Central region has done a great job at creating a baseline of trust for our team. We're encouraged to show up to meetings with our authentic selves and ask questions without fear that others may think less of us. It's a welcoming environment where we can speak our mind. Even before the COVID-19 pandemic, our region was uniquely suited to a virtual coworking environment since we have team members located in Chicago, Denver, Austin and Houston. The fact that we have people located across the Midwest makes for inherently diverse discussions. We have always encouraged lifting voices that may not necessarily be physically in the room. I think this strategy plays into my overall vision for our region, which is to give space to all voices to be heard.
What do you like most about working at Freddie Mac?
A: I love the people, the exposure and the opportunities. When I worked in mortgage banking, I had to seek out opportunities for growth and development and it wasn't always easy to find. At Freddie Mac, we have plenty of resources available for employees to develop themselves. Our people are also another source — I can pick up the phone, call someone in another business line to learn more about their area, and they'll take the time out of their day to walk me through it. Our people are top-notch, caring and willing to help along the way. I'm constantly impressed by the mission-driven focus of our staff across all departments and tenures — and it's truly inspiring.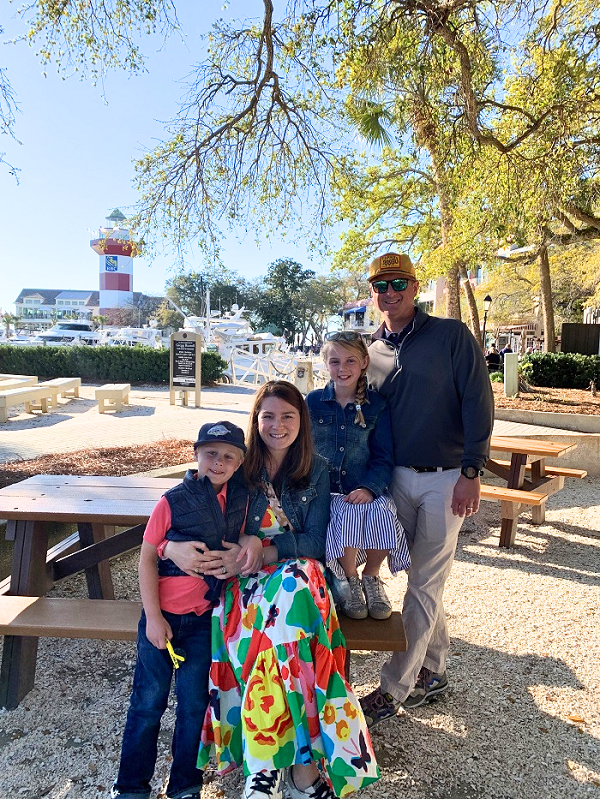 Catherine with her family at Hilton Head, South Carolina
Which women figure(s) do you admire?
A: Hands down, the most influential woman in my life is my mother. She worked two jobs to put my sister and me through school. Having early exposure to her perseverance and positive attitude molded my work ethic today. But generally speaking, I have so much respect for working moms because they wear many hats and do it all with grace — without asking for recognition. They have the ability to be nimble, are great delegators and excellent at multitasking.
At Freddie Mac, I've also met many women who have helped shape my career. I've had a number of mentors along the way who have continued to lift me up and support me. Commercial real estate has traditionally been a male-dominated industry, but over the years, I'm starting to see more women in the room. I believe this is the result of women supporting women in this field and I'm excited to see increased diversity in this space.