Annette Leiva
A BALANCING ACT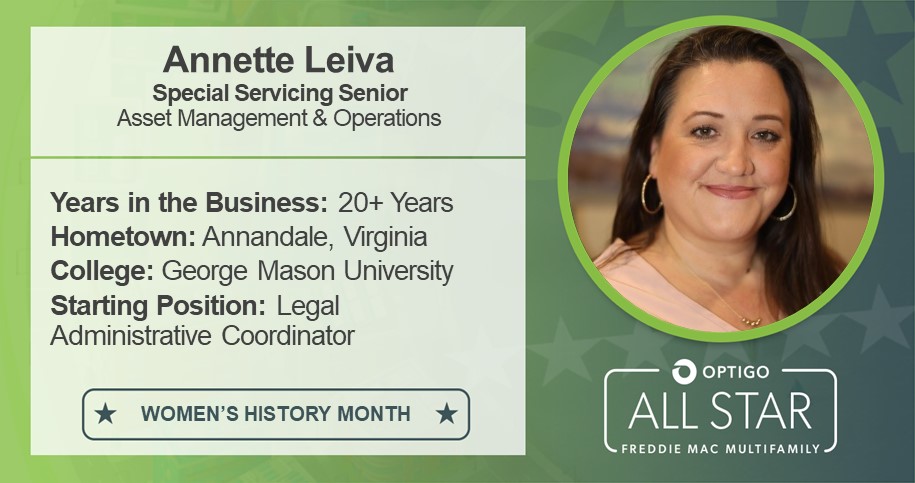 Although Annette Leiva was born in Italy, she considers herself a native Virginian raised in Fairfax County. She's the youngest of four girls, and after her parents separated in her youth, grew up in a household of all women. This taught her a lot about how to share, be patient and have understanding.
Annette went to George Mason University for a bachelor's in Management and, with an interest in the legal field, a paralegal certification. It was through looking for a job in law that she fell into the real estate industry. Her first job was as a paralegal supporting a small borrower counsel firm on multifamily closings. During this time, she worked with lawyers from Freddie Mac and became interested in working at the company.
In 2007, Annette joined Freddie Mac as a legal administrative coordinator supporting the Multifamily litigation and structured transactions attorneys. Working on structured transactions was a unique experience and it sparked her curiosity to learn more about what happens after the loan is funded — which ultimately led her to her current position.
There are several Multifamily Special Servicing teams, and Annette's team focuses on servicing loans that have affordable units and help our mission and other non-standard, structured deals. Most of these loans are not securitized through our flagship K-Deal®, but rather through our tax-exempt and taxable securities like M- and ML-Deals®. Annette's team is also involved with determining the servicing impacts of all new Multifamily loan initiatives, which involves problem-solving and collaboration with the production, underwriting and securitization teams for smooth execution across the loan lifecycle.
Below, Annette shares why she stays at Freddie Mac and who she admires during Women's History Month.
How do you promote diversity/inclusion within your personal life or your team?
A: I grew up in a very diverse county where we're exposed to all sorts of ethnic foods, cultures, people — it's exciting to be surrounded by it. You learn so much about different communities this way.
A little before the pandemic, we started to have turnover on our team. Now, for the first time in seven years, we have a very diverse team. Everyone brings different ideas to the table, whether because of their experience on a different Freddie Mac group or from outside the company. They're questioning processes, like why it's done this way or how things can be better implemented. I find it powerful because it drives our team to execute more efficiently and think critically about current standards.
Advice to others on bringing your "full self" to work?
A: Everyone who knows me knows that the Annette they get at work is the same Annette as outside of work. I wear my emotions on my face and am not afraid of having open discussions to resolve things — especially when it's for the greater good of the team. This is bringing my full self to work.
My advice to others would be to share whatever pieces of yourself you're comfortable with. From my experience, the people at Freddie Mac are welcoming and understanding — and you'll receive support in your preference.
What makes a great teammate or ally?
A: Part of being a great teammate is having the willingness to help. When I'm slammed at work, I appreciate it when a teammate volunteers on a new project or helps train a new colleague. And in return, I provide that support when possible.
Additionally, I don't believe you have to have the exact knowledge to do the job — being willing to learn and showing initiative are valuable traits I also admire in a teammate. These can help contribute to a positive team environment. To quote Rob Schneider's repeated phrase in Waterboy, "You can do it!"
Annette with her family at Disney World.
Which women figures do you admire?
A: I admire career women of all backgrounds. Personally, I'm a working mother and there is this never-ending guilt because I'm torn between home and work. When I'm home taking care of the kids, I'm thinking about something at work and vice versa. And I'm currently working toward my MBA degree, so that's another area of commitment I'm balancing.
But I love the part of me that is a career woman — I get to put my brain to work on something that makes a difference. I'm passionate about the mission, culture and work I do at Freddie Mac. This is the part of me that is for me, and I feel like I'm contributing to society in my own way.
There are many women at Freddie Mac with various family structures who face similar challenges. They're so inspirational because you don't see it on them. They come into work each day and do an amazing job driving for results while maintaining their poise.